When we moved into our current little house I was super excited that the basement was so big! Even though its partially unfinished, part of it became the kid's playroom.
Worst idea ever!
No really. Clutter seems to run rampant when you have 7 children running around in a tiny house. So as the last few years have gone on, that room has never stayed clean & organized for more than a day. 
This blog is a participant in the Amazon Services LLC Associates Program, an affiliate advertising program designed to provide a means for sites to earn advertising fees by advertising and linking to Amazon. Just think of it as you helping me feed my family of 9! 😉
I will admit that I(Or my entire family) have a clutter problem.
In fact, I've been trying  hard to downsize this past year(2018) with very little success. This is due mainly from lack of help and motivation. 
Our entire basement had become a fire hazard and I had had enough!
I decided, since my office is in the basement, that I would take that extra playroom space and use it to my advantage. 
My office is still in transition. (Blog post to come on this!) But I spent one of my Saturdays with all the kids to purge the playroom.
The toys we are keeping went into the kid's rooms. And the rest was either trash or donate. Broken toys, paper, McDonald's toys etc all got thrown away. 
**Side note. We as a family do not eat out very often at all. I have 4 kiddos that go to their dad's and that's where the majority of the junk toys come from. 
The next project is to organize the kid's rooms. I have already planned to get them each a cubical unit(like these) to house their toys and other special items. We are working towards keeping items picked up and out of site. 
It's amazing what happened!! 
My kids actually got out the board games! WHAAAAA.....???
And they played together.
Not just for a few minutes, but almost entire days!
This is amazing to me. Without the playroom my kids have been forced to find things to do elsewhere. And with the cooler weather that means more indoor activities. 
You see, I notice this phenomenon every single time I vacuum the living room and clean up the clutter(Laundry baskets get put here a LOT) my kids seem to flock to this space. Hmm.
I thought a long time about this, and read countless articles on de-cluttering and minimalism. I noticed a trend. 
Children LOVE open minimally decorated spaces. WHOA.
LESS REALLY DOES EQUAL MORE
The less clutter or stuff you have the more peaceful your home life will be. Who knew? 
Think about it for a minute.
Do you enjoy coming home to a well organized home where you can relax, or to an overwhelming mess that causes stress??
With all the extra space you'll open up, your children's imaginations will light up and help them learn and grow. 
And you'll start to notice a new calm.
Imagine if everything fit exactly where you wanted it to and there was never anything out of place.... Ok now realize that will never happen, but we can get close to that goal. 😉
We all want what is best for our kids.
BUT stuff isn't the answer.
I have 7 children. And the amount of stuff that comes with each of them is more then we have room for.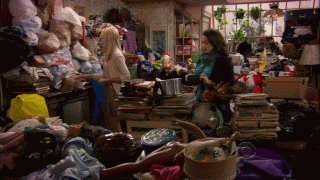 I encourage you to involve your kids in helping you clear the clutter. I will be doing this as well when I do each of their rooms. (Blog post to come on this journey)
What space can you gain from downsizing? A new reading nook? A homework spot? A space to sew or craft? Let me know in the comments!! 
Please reload